National Assembly of the Republic of Serbia / Activities / Activity details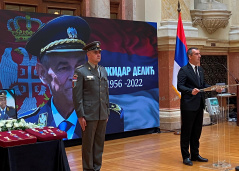 29 August 2022 The National Assembly Speaker addresses the commemorative meeting
Monday, 29 August 2022
Commemoration for National Assembly Deputy Speaker Bozidar Delic
A commemoration was held today in the National Assembly House for the late National Assembly Deputy Speaker Bozidar Delic.
---
The last honours were given by National Assembly Speaker Dr Vladimir Orlic, MP Igor Braunovic, retired lieutenant colonel general Milomir Miladinovic and Deputy President of the patriotic movement "There's No Going Back - Serbia is Behind" Aleksandar Jerkovic.
In addition to family and friends, the commemorative meeting was attended as envoy of President Aleksandar Vucic by the President's secretary general Suzana Paunovic, by the National Assembly Deputy Speakers, members of parliament, members of the diplomatic corps, representatives of the Club of Generals and Admirals of Serbia and members of the Association of the Heroic 549th Motorized Brigade.
---
---
monday, 25 september
9.00 - the National Assembly Speaker meets with the Chairman of the Shanghai Committee of the Chinese People's Political Consultative Conference (National Assembly House, 13 Nikola Pasic Square, hall 1)

11.00 - the members of the European Integration Committee meet with the German Ambassador to Serbia (National Assembly House, 13 Nikola Pasic Square, hall 2)