National Assembly of the Republic of Serbia / Activities / Activity details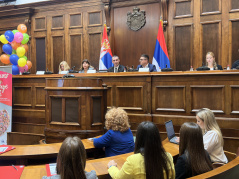 3 October 2023 The National Assembly Speaker opens the session of the student parliament
Tuesday, 3 October 2023
Children's Week in National Assembly: Dr Orlic Opens Student Parliament Session
The Speaker of the National Assembly of the Republic of Serbia Dr Vladimir Orlic opened the session of the student parliament entitled "Active role of school peer teams in the development of empathy and solidarity", organised under the auspices of Children's Week.
---
The National Assembly Speaker said that today's gathering is a worthy continuation of the traditional cooperation between the National Assembly of the Republic of Serbia and the Friends of Children of Serbia and confirms the importance of Children's Week which has, through the laws passed over the past years and decades, become part of the institutions of the Republic of Serbia.
Addressing the high-school students from all over Serbia, Dr Orlic wished them a fruitful discussion though which they will not only learn more about the Serbian Assembly and its operation and what it means to fight for values and ideas put on assembly discussion, but also, by adopting recommendations, help the adults to see things from their perspective. "In that way, you will help us, this very day, to do something more for you because, you must know that everything the state does today, it is doing it for you and your better future. Every new high-way, school, hospital, clinical centre, science and technology park or youth support project such as "My First Salary" - it all belongs to you," said Dr Orlic.
Children's Week, held this year from 2 to 8 October, is organised under the slogan "Big Heart of the Children of Serbia". "Leave room in your big heart for the people you love, for your family and friends, and always for your Serbia whose future you are and for which it would be best if you stayed to build your careers and families in it tomorrow and to make it proud by continuing together to move the limits of success," Speaker Orlic concluded, once again welcoming the high-school students and reaffirming the readiness of the Serbian National Assembly to open its doors to them in future and declaring the session of the student parliament officially open.
---
Photo gallery
---
---
| M | T | W | T | F | S | S |
| --- | --- | --- | --- | --- | --- | --- |
| 27 | 28 | 29 | 30 | 1 | 2 | 3 |
| 4 | 5 | 6 | 7 | 8 | 9 | 10 |
| 11 | 12 | 13 | 14 | 15 | 16 | 17 |
| 18 | 19 | 20 | 21 | 22 | 23 | 24 |
| 25 | 26 | 27 | 28 | 29 | 30 | 31 |
sunday, 3 december
No announcements for selected date