National Assembly of the Republic of Serbia / Activities / Activity details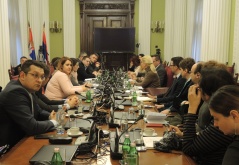 2 February 2017 The leaders of the Chapter 24 Negotiating Group and the members of the European Integration Committee
Thursday, 2 February 2017
Chapter 24 Negotiating Group Leaders Present Report to European Integration Committee
Zoran Lazarov, leader of the Chapter 24 Negotiating Group, presented the report on the negotiating chapter, reminding the Committee members that the chapter would be opened by the end of the negotiating process, and that the action plan implementation dynamics arranged with the European Commission include semi-annual reports.
---
Lazarov briefed the Committee members on the details of the report, highlighting the high percentage of activities realized and number of prepared bills and strategies, and the Committee members asked how these activities reflect on the society and institutions in Serbia.

The Committee members were especially interested in the asylum bill and the status of the readmission agreement with Turkey and Ukraine.

Committee Chairperson Marinika Tepic and the Head of Serbia's Negotiating Team Tanja Miscevic agreed that the presentation of reports to the Committee members provides an opportunity to detect segments and sub-chapters that require additional work.

The meeting was attended by the following Committee members and deputy members Zarko Micin, Milimir Vujadinovic, Biljana Pantic Pilja, Dusica Stojkovic, Bojan Torbica, Branko Ruzic, Jovan Jovanovic, MA Aleksandra Jerkov, Gordana Comic, Dr Muamer Bacevac, Haji Milorad Stosic, Dubravka Filipovski and Elvira Kovacs.


---
---
saturday, 2 july
No announcements for selected date