National Assembly of the Republic of Serbia / Activities / Activity details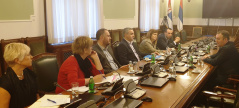 5 December 2018 The Chairman and members of the Committee on the Diaspora and Serbs in the Region in meeting with the Deputy Chairman of Berane Municipal Assembly
Wednesday, 5 December 2018
Chairman and Members of the Committee on the Diaspora and Serbs in the Region Meet with Deputy Chairman of Berane Municipal Assembly
The members of the Committee on the Diaspora and Serbs in the Region headed by Miodrag Linta met today with Goran Kikovic, president of the Serbian National Defence of Vasojevici and Lim Valley and the Deputy Chairman of Berane Municipal Assembly, to discuss the position of Serbs in Montenegro.
---
First off, Linta said that he and Committee member Aleksandar Markovic had attended the celebration of the 100th anniversary of the Great National Assembly of the Serb People in Montenegro and Day of Unification of Montenegro and Serbia, in Podgorica, on 1 December. He said that there's a visible chasm between the people in Montenegro, stressing that the Committee is doing all in its power to help the Serbs living in Montenegro preserve their national and cultural identity.
Aleksandar Markovic said that he is aware of the situation and propaganda campaign conducted against the Serbian people and the exile of Serbian politicians active in the area, while MA Ivan Kostic said that Berane is the centre of the Serbian nationality in Montenegro and has been the tie between the two countries through history, adding that he hoped that the two nations will be re-united.

The Committee members agreed to again send an initiative to the Ministry of Foreign Affairs asking it to open a consulate in Berane, or at the very least an office Serbs could address when in need.
Kikovic agreed with the idea to open a consular office in Berane and asked the Committee members to visit Montenegro as often as they can to show support for their people.


---
---
wednesday, 15 july
13.00 - press conference of MPs Sasa Radulovic, Branka Stamenkovic and Vojin Biljic (National Assembly House, 13 Nikola Pasic Square, Central Hall)