National Assembly of the Republic of Serbia / Activities / Activity details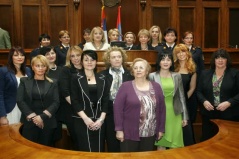 28 March 2012 National Assembly Speaker Prof. Dr Slavica Djukic Dejanovic with the participants of the Successful Women of Serbia project
Wednesday, 28 March 2012
Business Lady of Serbia
The Speaker of the National Assembly of the Republic of Serbia, Prof. Dr Slavica Djukic Dejanovic presented the director of the Tetra Pak plant from Gornji Milanovac Indira Petrovic with the Business Lady of Serbia gold plaque.
---
The traditional award, presented under the auspices of the National Assembly, was set up by the Business Reporters Club as part of the Successful Women of Serbia project. The jury decided to award only one Business Lady of Serbia gold plaque this year.
National Assembly Speaker Slavica Djukic Dejanovic, who presented the award, stressed that successful women are an inspiration and encouragement for all the women in Serbia and that they present a considerable resource which could help make Serbia better. She pointed out that out of the 380 state presidents and prime ministers in the world only 28 are women.
Djukic Dejanovic drew attention to Finland which had taken a decisive step forward by having at one point, women heads of state, parliament and government at the same time.
Business Lady 2011 and Creative Lady 2011 plaques were also presented at the ceremony at the National Assembly House.

---
---
thursday, 9 april
No announcements for selected date