National Assembly of the Republic of Serbia / Activities / Activity details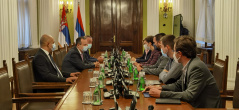 1 October 2021 Participants of the meeting
Friday, 1 October 2021
Brnabic, Dacic and Dolovac on Coordinated Activities Concerning Serbia-European Union Accession Talks Chapter 23 Action Plan
Serbian Prime Minister Ana Brnabic spoke today with the Speaker of the National Assembly of the Republic of Serbia Ivica Dacic and Republic Public Prosecutor and President of the State Prosecutorial Council Zagorka Dolovac about coordinating the activities concerning the Chapter 23 Action Plan of the Serbia-European Union accession talks.
---
All participants of the meeting reaffirmed that having regular/quarterly meetings is a good way and an appropriate mechanism to raise awareness and promote respect for the rules of conduct of all as regards commenting on court decisions by civil servants and politicians.

The participants of the meeting agreed that, by including new activities in the Action Plan for Chapter 23 - Judiciary and Fundamental Rights, the Republic of Serbia will significantly improve the situation in this area.

Today's meeting is part of the regular activities contained in the revised Chapter 23 Action Plan which refer to having quarterly meetings between the President of the High Judicial Council, President of the State Prosecutorial Council, National Assembly Speaker, Prime Minister and Minister of Justice aiming to raise awareness among civil servants and politicians on fully respecting court decisions and the work of courts and public prosecutor's offices, as well as raising awareness that criticising court decisions calls the independence of the judiciary.



---
---
friday, 3 december
10.30 - sitting of the European Integration Committee (National Assembly House, 13 Nikola Pasic Square, hall 3)

11.00 - sitting of the Committee on the Economy, Regional Development, Trade, Tourism and Energy (National Assembly House, 13 Nikola Pasic Square, hall 2)

11.00 - public hearing on: "Implementation of the United Nations Climate Change Conference - COP 26 Agreement in Serbia" (National Assembly House, 13 Nikola Pasic Square, Small Hall)

11.00 - the National Assembly Speaker addresses the public hearing on: "Implementation of the United Nations Climate Change Conference - COP26 Agreement in Serbia" (National Assembly House, 13 Nikola Pasic Square, Small Hall)