National Assembly of the Republic of Serbia / Activities / Activity details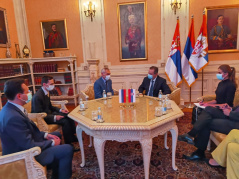 29 October 2020 National Assembly Speaker Ivica Dacic with Russian Ambassador to Serbia Alexander Botsan-Kharchenko
Thursday, 29 October 2020
Botsan-Kharchenko Delivers Valentina Matviyenko's Letter to National Assembly Speaker Ivica Dacic
Today, the Speaker of the National Assembly of the Republic of Serbia Ivica Dacic received the Ambassador of the Russian Federation to Serbia, Alexander Botsan-Kharchenko.
---
Ambassador Botsan-Kharchenko delivered a letter of the Chairperson of the Russian Federation Council Valentina Matviyenko congratulating National Assembly Speaker Ivica Dacic on taking up his new position and wishing him success in this responsible new post. Emphasizing National Assembly Speaker Ivica Dacic's stellar reputation in the Russian Federation, the letter goes on to state that in his position as a high dignitary in the Serbian executive he had greatly contributed to the strengthening of friendly relations and cooperation between the Russian Federation and the Republic of Serbia. The development of cooperation between the two parliaments had also taken great strides in the previous period, which would hopefully be continued in the future.
National Assembly Speaker Ivica Dacic said he was sorry to hear that the visit of the Russian Minister of Foreign Affairs Sergey Lavrov had to be postponed, hoping that it would be realized as soon as circumstances allow.


---
Photo gallery
---
---
friday, 27 november
10.00 - National Assembly Speaker Ivica Dacic meets with the Ambassador of the United Kingdom of Great Britain and Northern Ireland to the Republic of Serbia Sian MacLeod (National Assembly House, 13 Nikola Pasic Square, diplomatic salon of Prince Pavle)