National Assembly of the Republic of Serbia / Activities / Activity details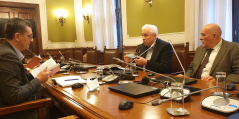 15 March 2021 The Chairman of the Committee on the Economy, Regional Development, Trade, Tourism and Energy in meeting with the representatives of the Association of Craftsmen of Novi Sad
Monday, 15 March 2021
Arsic and Representatives of Novi Sad Association of Craftsmen Discuss Adoption of Crafts Law
The Chairman of the Committee on the Economy, Regional Development, Trade, Tourism and Energy Veroljub Arsic met today with representatives of the Association of Craftsmen of Novi Sad to discuss the initiative to pass a law on crafts in Serbia.
---
The Secretary of the Association Veljko Andjelic pointed out that the current situation in the field of craft manufacture is characterised by an absence of legal regulations and disorder in the surrounding economic environment. From 1949 to 1969 crafts were regulated by law, but since then craft-related occupations have not been defined or recognised in any professional, organisational and formal-legal sense. Noone knows who craftsmen or what craft occupations are, and under what conditions they are performed. As he said, this situation dates back to the period following World War II when the country was turned to mass industrialisation, and today many crafts are in a serious recession.
Slavko Novakovic, President of the Association, pointed out that the Ministry of Economy had a draft law in 2004, then again in 2010, and the last time the law was prepared was in 2014, but no government adopted the law nor did it reach the National Assembly. He said that a large number of countries from the region have already passed a law of this kind and Serbia can use their experience and transpose it into a law of its own to avoid any mistakes, i.e. solutions that do not work.
Arsic said that he would inform the Committee for Economy, Regional Development, Trade, Tourism and Energy he chairs and the Ministry of Economy on their concerns and initiate launching the procedure for the preparation of a Draft Law on Crafts. He estimated that the procedure for a potential bill's entry into Assembly procedure takes about six months.. In addition, the Committee may organise a public hearing on the draft law and/or bill as it is a systemic law, with the participation of MPs, representatives of the Ministry of Economy, public, professionals and civil society organisations, such as the Association.
The representatives of the Association also pointed out that it is necessary to raise public awareness on this topic because few young people seem to be interested in taking on craft jobs, yet the need for certified craftsmen is great.
The Chairman and guests agreed that Serbia needs a law to regulate the issue of crafts and craftsmanship, and Arsic once again stressed that he would talk to the Ministry of Economy about the issue as soon as possible.
---
---
tuesday, 16 august
12.00 - press conference of MP Srdjan Milivojevic (National Assembly House, 13 Nikola Pasic Square, Central Hall)