National Assembly of the Republic of Serbia / Activities / Activity details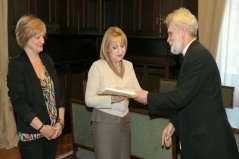 28 March 2012 Anti-Corruption Agency Annual Report presented to the National Assembly Speaker Prof. Dr Slavica Djukic Dejanovic
Wednesday, 28 March 2012
Anti-Corruption Agency Annual Report
The Speaker of the National Assembly of the Republic of Serbia, Prof. Dr Slavica Djukic Dejanovic was presented with the Anti-Corruption Agency Annual Report.
---
The Report was presented by the Anti-Corruption Agency Board President Zoran Stojiljkovic and Anti-Corruption Agency Director Zorana Markovic.
The Agency is obliged to submit an annual activity report to the National Assembly for the previous year by 31 March of the current year at the latest.
The National Assembly Speaker stated that she would forward the Report to the competent Justice and Administration Committee and that it would then be debated by the MPs of the next legislation at a plenary session. Djukic Dejanovic added that the Annual Report, second one to date, shows that the Agency has intensified its efforts and that it covers all the segments the Agency was created for. The Speaker stated that the Agency would follow the pre-election campaign in 23 Serbian towns adding that the functionaries' property register covers five times as many functionaries than it did at the end of 2010. The number of measures relating to conflict of interest pronounced to the functionaries is four times higher than in 2010. The Anti-Corruption Agency has become member of the European Partners Against Corruption network.

---
---
friday, 10 april
No announcements for selected date