National Assembly of the Republic of Serbia / Activities / Activity details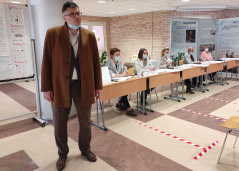 18 September 2021 Aleksandar Cotric at a polling station in the Russian Federation
Monday, 20 September 2021
Aleksandar Cotric, Observer Representing Inter-Parliamentary Assembly of Orthodoxy, on Elections in Russian Federation
I was an international observer on behalf of the Inter-Parliamentary Assembly of Orthodoxy at the elections in the Russian Federation, 17-19 September 2021, representing the organisation at the invitation of the Chairman of the State Duma of the Federal Assembly of the Russian Federation Vyacheslav Volodin and the decision of the IAO International Secretariat. The accreditation to observe the elections was issued to me by the Central Election Commission of the Russian Federation.
---
I performed my function as an election observer without any influence or pressure, independently and autonomously. The elections in the Russian Federation for the parliament and regional and local authorities were completely free, democratic, regular and in line with the highest European and global standards.
At the polling stations I visited on 18 September 2021 in the Moscow region, in the city of Odintsovo and its surroundings, I did not notice any irregularities. Representatives of the election commission and polling stations showed me the sanitary protocols applied at polling stations, video surveillance, electronic voting, control of the election process by representatives of electoral lists and the ways of storing the ballots during the three days of voting - 17 to 19 September 2021. I also talked to the representatives of political parties present at the polling stations, who had no objections to the election process.
Voters were allowed to choose between different political options. The election administration performed its duties in a lawful and efficient manner. Basic civil rights were respected. The legislative framework provides a good basis for the conduct of democratic elections and the electoral lists have been allowed to freely campaign and monitor the electoral process.
The Central Election Commission respected all legal deadlines, functioned in an efficient and transparent manner and issued detailed instructions for the elections, including polling stations operating rules.
The public media provided equal time to the election participants to present their election platforms in accordance with law.
---
---
sunday, 26 june
No announcements for selected date