National Assembly of the Republic of Serbia / Activities / Activity details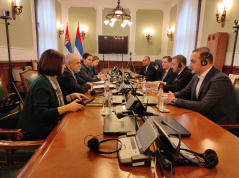 2 March 2023 The Chairman of the Agriculture, Forestry and Water Management Committee in meeting with the Georgian parliamentary delegation
Thursday, 2 March 2023
Agriculture, Forestry and Water Management Committee Chairman Receives Georgian Parliamentary Delegation
The Chairman of the Agriculture, Forestry and Water Management Committee Marijan Risticevic received a delegation of the Parliament of Georgia in the National Assembly House.
---
The topic of the meeting was the possibility of improving agricultural cooperation and the Committee Chairman informed the guests in detail about Serbia's agricultural capacities, from livestock to agricultural land, as well as the country's most common agricultural exports.
Chairman Risticevic also spoke about the process Serbia had gone through in order to comply with the standards to place goods on the European market, adding that it was ready to continue investing in agricultural production as well as share its experiences in the process, which the Georgian delegation expressed particular interest in. He was also interested in the possibility of importing mineral fertilizers from Georgia, given that the quantities available in Serbia do not meet current needs.
Chairman Risticevic thanked Georgia for supporting Serbia in not recognizing the so-called state of Kosovo, pointing out that Georgia and Serbia share the same problem regarding their territorial integrity which is why they should strongly support each other.
Beka Odisharia, Chairman of the Diaspora and Caucasus Issues Committee, stressed that the two countries are united by history, culture, faith and a strong desire to improve their agricultural potential. He emphasised that, in this regard, Georgia is facing a shortage of experts due to young people's poor interest in farming. Risticevic offered help in this regard through the cooperation of agricultural faculties and exchange of achievements of the IT sector.
The officials agreed that there is great potential for improving cooperation in all fields and that it is therefore extremely important to sign an agreement on foreign trade, as well as establish a direct flight between the two countries, which would facilitate contact not only between citizens, but businessmen and agricultural producers as well.
---
---