National Assembly of the Republic of Serbia / Activities / Activity details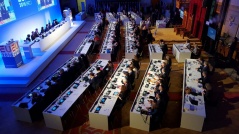 8 February 2016 Participants of the 54th COSAC meeting
Monday, 8 February 2016
54th COSAC Meeting
The meeting of the Chairpersons of COSAC - Parliamentary Committees for Union Affairs of Parliaments of the European Union, was held on 7 and 8 February in The Hague, under the auspices of the Dutch presidency of the EU Council.
---
The meeting was attended by representatives of the 28 EU member states, the European Parliament, as well as EU candidate countries, and as guests by representatives of the European Commission, European Council, Georgia, Iceland, Norway and Switzerland. The delegation of the Serbian National Assembly's European Integration Committee comprised Committee Chairman Aleksandar Senic and Committee member Vesna Markovic.

The meeting focused on the role of national parliaments in EU decision-making, the priorities of the Dutch presidency and the European Commission 2016 Programme. The participants also ascertained the draft agenda for the 55th COSAC meeting, scheduled for June 2016, in The Hague.

European Integration Committee Chairman Aleksandar Senic reminded the participants that the first negotiation chapters with Serbia had been opened in December 2015, chapters 32 and 35 - financial control and other issues. He said that Serbia is ready to open the next eight prepared chapters. He hopes that the coming chapters, to be opened during the Dutch presidency of the EU, would be chapters 23 and 24 – the rule of law. Finally, he appealed for more support for the reforms in the Western Balkans since they are crucial for the EU itself, because a clear perspective of EU membership is the key factor of stability in the region.


---
---
monday, 23 may
No announcements for selected date