National Assembly of the Republic of Serbia / Activities / Activity details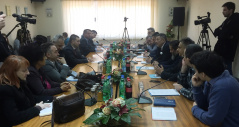 12 February 2018 21st Sitting of the Committee on Education, Science, Technological Development and the Information Society
Monday, 12 February 2018
21st Sitting of the Committee on Education, Science, Technological Development and the Information Society
At the sitting held on 12 February outside of the National Assembly seat in the Municipal Assembly of Svrljig, the members of the Committee on Education, Science, Technological Development and the Information Society considered one item: dual education – "practical" for everybody.
---
Faltering birth rates were identified as the chief challenge for small municipalities which then in turn results in the closure of schools and educational institutions, lacking qualified staff for companies and the closure of factories. The local self-governments' objective is to make sure the Law on Dual Education is applied in practice and to inform the parents and children of its benefits.
The Committee members, representatives of local self-governments, school principals and entrepreneurs discussed the many challenges they come up against. The Principal of Svrljig High School spoke about the introduction of new educational profiles to attract students to stay and attend school in Svrljig, and about securing jobs in the local companies for them afterwards. The participants of the sitting also spoke about scholarships for high-achievers as a way to encourage dual education. Through dual education the students would gain the necessary practical knowledge, as well as theoretical knowledge for further specialization in their chosen field.
The sitting was chaired by Committee Deputy Chairman Prof. Dr Ljubisa Stojmirovic, and attended by the following Committee members and deputy members: Miletic Mihajlovic, Djordje Kosanic and Milan Knezevic, as well as MP Milija Miletic.
The Committee sitting outside of the National Assembly seat, in Svrljig, was held with the support of the United Nations Development Programme (UNDP) and the Swiss Agency for Development and Cooperation (SDC) via project "Strengthening the Oversight Role and Transparency of the National Assembly of the Republic of Serbia".
---
Committees related to this activity
---
---
tuesday, 7 february
8.30 - sitting of the Subcommittee on the Science and Higher Education (National Assembly House, 13 Nikola Pasic Square, hall 3)

9.00 - sitting of the Committee on Constitutional and Legislative Issues (National Assembly House, 13 Nikola Pasic Square, hall 2)

10.00 - continuation of the First Extraordinary Session of the National Assembly of the Republic of Serbia, 13th Legislature (National Assembly House, 13 Nikola Pasic Square)

11.00 - MP Mirko Ostrogonac meets with representatives of the UK Embassy in Zagreb and representatives of the UK Embassy in Serbia (National Assembly House, 13 Nikola Pasic Square, hall 2)

11.00 - sitting of the Committee on Administrative, Budgetary, Mandate and Immunity Issues (National Assembly House, 13 Nikola Pasic Square, hall 4)

12.00 - sitting of the Committee on the Economy, Regional Development, Trade, Tourism and Energy (National Assembly House, 13 Nikola Pasic Square, hall 3)

12.00 - MP Miodrag Linta meets with representatives of the UK Embassy in Croatia and representatives of the UK Embassy in Serbia (National Assembly House, 13 Nikola Pasic Square, hall 4)

12.00 - press conference of the GREEN – LEFT CLUB, DON'T LET BELGRADE D(R)OWN, WE HAVE TO; Democratic Party – DS; People's Party; UNITED – SSP, PSG, OVERTURN, SLOGA and WE HAVE TO – TOGETHER parliamentary groups (National Assembly House, 13 Nikola Pasic Square, Central Hall)

13.00 - press conference of MP Milovan Jakovljevic (National Assembly House, 13 Nikola Pasic Square, Central Hall)

14.00 - the members of the PGH with Germany meets with the German Ambassador to Serbia (National Assembly House, 13 Nikola Pasic Square, hall 2)

15.00 - the Head of the PFG with the UK meets with representatives of the UK Embassy in Croatia and representatives of the UK Embassy in Serbia (National Assembly House, 13 Nikola Pasic Square, hall 4)