National Assembly of the Republic of Serbia / Activities / National Assembly / Working Bodies / Committee Sittings outside of the National Assembly Seat / Details of the Committee sitting
Committee Sittings outside of the National Assembly Seat

Arandjelovac
Monday, 17 November 2014
18th Sitting of the European Integration Committee - 16 November
On the second day of the sitting, 16 November, in the Arandjelovac Municipal Assembly, the members of the European Integration Committee discussed the accessibility and manner of use of IPARD funds (EU pre-accession funds for rural development).
---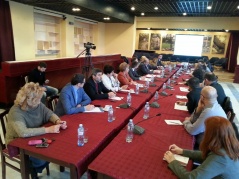 16 November 2014 Participants of the sitting of the European Integration Committee in Arandjelovac
The participants were greeted by Vice-President of Arandjelovac municipality Miladin Jovanovic, while the sitting was also attended by Dragan Mirkovic of the Ministry of Agriculture and Environmental Protection, representatives of the European Integration Office Daria Janjic and Ognjen Miric, as well as representatives of the civil sector and local self-governments.
Dragan Mirkovic outlined the common agricultural policy all EU member states must abide by from legislation to implementation in the field, and presented the rural development support measures, financial aspects and structure of the IPARD programme and the work of the Directorate for Agrarian Payments.
Daria Janjic and Ognjen Miric spoke about the scope of the European Integration Office, programming of international development aid and the IPA funds' decentralised management system.
The Committee members had questions about the situation in the real estate cadastre, marking of agricultural plots and mapping, process of accreditation for the use of IPARD funds and standard food safety. They also discussed the possible organisation of a public hearing on IPARD funds.
The representatives of the civil sector asked to see the IPARD 2014-202 draft programme and also had questions about the manner in which the beneficiaries could be informed about the programme and when a rural development network would be set up. The representatives of the cluster also asked whether any stimulation measures have been planned for beekeeping.
The questions posed by the Committee members and other participants of the sitting were answered by the representatives of the Ministry and European Integration Office

The sitting was chaired by Committee Chairman Aleksandar Senic.


Arandjelovac: Photo gallery
Other sessions of this committee
Contact the National Assembly Committee

Committee meetings outside the headquarters of the National Assembly are being organized and this sub-site has been produced with the support of the United Nations Development Program (UNDP) and the Swiss Agency for Development and Cooperation (SDC), as part of the project "Strengthening the oversight role and publicity in the work of the National Assembly." The views and content on this subpage do not necessarily represent the views of UNDP and the SDC.