National Assembly of the Republic of Serbia / Activities / Activity details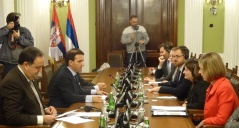 20 October 2015 17th meeting of the National Assembly Economic Caucus
Tuesday, 20 October 2015
17th Meeting of National Assembly Economic Caucus
The members of the Economic Caucus met with a delegation of the US State Department, representatives of the National Alliance for Local Economic Development (NALED), International Republican Institute (IRI) and USAID Serbia, at the National Assembly House.
---
The Head of the Economic Caucus, Prof. Dr Vladimir Marinkovic welcomed the delegation of the US State Department saying that the small steps the Economic Caucus has taken and the small results it has achieved are a good start toward creating a good business environment, adding that the working group's goal is to make Serbia the regional economic leader.

"The Economic Caucus cooperates with the Serbian Chamber of Commerce, US Chamber of Commerce, Foreign Investment Council and the Chamber of Small and Medium-Sized Enterprises and Entrepreneurs. The group's priority is to counter black economy and show responsibility both toward the citizens and foreign investors", said Marinkovic.

Economic Caucus member Zoran Babic said that within the Caucus the representatives of the ruling majority and the opposition have managed to foster ties and put economy and business into focus.

"Economy and politics suffer from a common ailment – neither is popular. In that spirit, it is necessary to analyse both the economy and the business tips we get from our associates from NALED and IRI. The goal of the Economic Caucus is to listen and provide institutional solutions to the problems, as well as implement laws in the field, draw attention to them and propose them to the National Assembly. From the US, we expect cooperation with the top companies and development of technologies", stressed Babic.

Christine Tefft, representative of the US State Department delegation, said they were happy about the economic reforms and that they see Serbia as the leader in the region, while Milovan Milojevic, Economic Caucus member, said that any help and experience from the world economic leaders are welcome and that he hoped the cooperation with the US would develop and grow. MP and Economic Caucus member Ivan Jovanovic agreed with his colleagues and added that the work and efforts of the Economic Caucus are visible, that the results would not be possible without the support of NALED and IRI and that he was pleased by the continued cooperation with an economic magnate such as the US.

Marinkovic concluded the meeting saying that new programmes are being implemented in cooperation with USAID and that the Economic Caucus is keeping a close eye on the budget control and implementation of legislation.


---
---