National Assembly of the Republic of Serbia / Activities / Activity details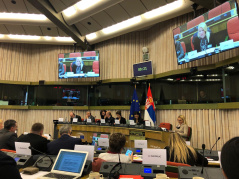 24 November 2022 The Participants of the 14th EU-Serbia SAPC meeting
Friday, 25 November 2022
14th EU-Serbia SAPC Meeting
The European Union-Serbia Stabilisation and Association Parliamentary Committee (SAPC) held its 14th meeting on 23-24 November 2022 in Strasbourg, co-chaired by Alessandra Moretti on behalf of the Delegation of the European Parliament and Marinika Tepic on behalf of the National Assembly of the Republic of Serbia.
---
The National Assembly delegation also comprised Sandra Bozic, Veroljub Arsic, Aleksandar Mirkovic, Igor Becic, Elvira Kovacs, Dijana Radovic, Miroslav Aleksic, Ksenija Markovic, Djordje Miketic, Usame Zukorlic, Natasa Ivanovic and Nemanja Joksimovic, while the European Parliament delegation also comprised Klemen Groselj, Jean-Lin Lacapelle, Viola Von Cramon-Taubadel, Matjaz Nemec, Gwendoline Delbos-Corfield, Andor Deli and Franc Bogovic.
The members of the Stabilisation and Association Parliamentary Committee discussed the following:
State of play of the accession negotiations and EU-Serbia relations in the presence of
-Tanja Miscevic, Minister of EU Integration, on behalf of the Government of Serbia,
-Jaroslav Kurfürst, Deputy Minister for Europe, on behalf of the Czech Presidency-in-Office of the Council of the EU,
-Michael Miller, Head of Unit for Montenegro and Serbia, DG NEAR, on behalf of the European Commission,
-Clive Rumbold, Senior expert, 'South East Europe & Western Balkans' Division, on behalf of the European External Action Service;
Cluster 1 - Fundamentals, with a focus on Chapters 23 and 24, including fundamental rights, freedom of expression and assembly and the implementation of the constitutional amendments;
EU-Serbia cooperation in CFSP/CSDP and alignment with the CFSP;
EU-facilitated Dialogue between Belgrade and Pristina;
State of play of Cluster 4 with a focus on chapter 27 on environment and climate change;
Cluster 3 - Competitiveness and inclusive growth with a focus on economic development.
---
---
monday, 6 february
14.00 - the Chairperson and the Deputy Chairman of the Committee on the Diaspora and Serbs in the Region meet with the President of the Association of Serbs from Bosanska Krajina in the Federation of Bosnia and Herzegovina (National Assembly House, 13 Nikola Pasic Square, hall 2)