National Assembly of the Republic of Serbia / Activities / Activity details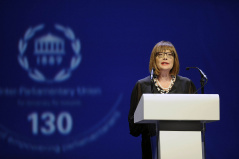 13 October 2019 National Assembly Speaker Maja Gojkovic at the Inaugural Ceremony of the 141st Assembly of the Inter-Parliamentary Union
Sunday, 13 October 2019
141st IPU Assembly Inaugural Ceremony
The 141st Assembly of the Inter-Parliamentary Union had its Inaugural Ceremony today. Belgrade will be host to 80 parliament speakers and 60 deputy speakers, heading more than 2000 delegates from around the world, from 13 to 17 October.
---
National Assembly Speaker Maja Gojkovic and UN Office Geneva Director-General Tatyana Valovaya spoke at the Inaugural Ceremony, UN Secretary Antonio Guterres addressed the attending by a video note and the delegates were also greeted by IPU President Gabriela Cuevas Barron. President of the Republic of Serbia Aleksandar Vucic declared the 141st IPU Assembly open.
At the 141st IPU Assembly Inaugural Ceremony, Serbian Assembly Speaker Maja Gojkovic greeted the delegations from 150 countries from around the world, promising that the open, cosmopolitan Belgrade will captivate their hearts.
"We have gathered here to strengthen the old and build new bridges of cooperation. We are here in the land of Nobel Prize winner Ivo Andric who said that bridges "are places where a man came up against an obstacle and did not stop before it, but overcame it and bridged it best he could, according to his understanding, taste and circumstances". It is up to us today to, on behalf of the people we represent, encourage our governments to build, not destroy bridges of cooperation."
Gojkovic said that in complex times, parliamentary diplomacy is vital and when traditional diplomatic mechanisms fall short it is the only means of support of international dialogue.

Gojkovic said that Serbia has been committed to the values and objectives of the Inter-Parliamentary Union for 128 years now, since the Kingdom of Serbia joined the community of parliaments in 1891.
Gojkovic said that it is no accident that the Pirot rug motif, the symbol of our tradition for five centuries, has been chosen as the visual identity of the Belgrade IPU Assembly.
"Folk tales say that it maintains harmony in the family and spreads positive energy. This motif is all about the art of conversation that ends in agreement".


---
Photo gallery
---
---
tuesday, 29 november
11.00 - sitting of the Committee on Finance, State Budget and Control of Public Spending (National Assembly House, 13 Nikola Pasic Square, hall 2)

11.00 - video meeting of the members of the National Assembly Foreign Affairs Committee and the Ukrainian Verkhovna Rada (National Assembly House, 13 Nikola Pasic Square, hall 4)

12.00 - press conference of MP MA Ivan Kostic (National Assembly House, 13 Nikola Pasic Square, Central Hall)

12.30 - the National Assembly Speaker meets with Cypriot Minister of Defence (National Assembly House, 13 Nikola Pasic Square, hall 1)