National Assembly of the Republic of Serbia / Activities / Activity details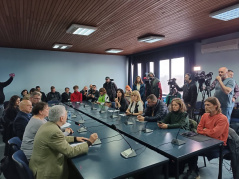 25 April 2023 11th Sitting of the Environmental Protection Committee
Tuesday, 25 April 2023
11th Sitting of the Environmental Protection Committee
As the Environmental Protection Committee lacked the necessary decision-making quorum for the sitting, the attending Committee members discussed the topic "Impact of the planned "Dundee Precious Metals" gold mines on the environment and natural values of Homolje."
---
The sitting of the Environmental Protection Committee was held on 25 April, outside of the National Assembly seat, in the Municipality of Zagubica.
Academician Nenad Kostic, Dragana Djordjevic, research associate at the Institute of Chemistry, Technology and Metallurgy, Dr Ratko Ristic, vice-chancellor of the University of Belgrade, and representatives of the environmental organisation Mlavska Vojska and Association Cuvari Homolja attended and spoke at the sitting.
The sitting outside of the National Assembly seat was held with the support of project "Strengthening Parliamentary Democracy and Inclusive Political Dialogue", conducted by UNDP with the support of Switzerland.
The sitting was chaired by Committee Chairman Aleksandar Jovanovic, and attended by the following Committee members and deputy members: Ivana Parlic, Danijela Nestorovic, Tatjana Manojlovic and Aleksandar Jerkovic and MP Radmila Vasic who is not member of the Committee.
---
Committees related to this activity
---
---
wednesday, 6 december
No announcements for selected date