National Assembly of the Republic of Serbia / Activities / Activity details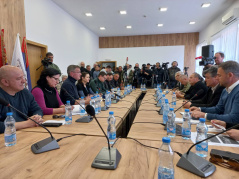 30 March 2022 10th Sitting of the Environmental Protection Committee
Thursday, 30 March 2023
10th Sitting of the Environmental Protection Committee
As the Environmental Protection Committee lacked the necessary decision-making quorum for the sitting, the attending Committee members discussed the impact of small hydroelectric plants on the environment.
---
The sitting was attended by Committee Chairman Aleksandar Jovanovic and the following Committee members: Ivana Parlic, Prof. Dr Zoran Radojcic, Zoran Stojanovic, Milinka Nikolic, as well as MPs who are not members of the Committee: Srdjan Milivojevic, Miroslav Aleksic, Aleksandar Jerkovic and Prof. Dr Tamara Milenkovic Kerkovic.
The sitting outside of the National Assembly seat was held with the support of project "Strengthening Parliamentary Democracy and Inclusive Political Dialogue", conducted by UNDP with the support of Switzerland.
---
Committees related to this activity
---
---
sunday, 4 june
No announcements for selected date