National Assembly of the Republic of Serbia / Activities / Activity details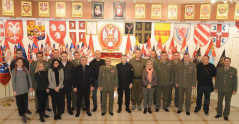 15 January 2019 The members of the Security Services Control Committee and the Defence and Internal Affairs Committee in visit to Land Army Command
Tuesday, 15 January 2019
Security Services Control Committee and Defence and Internal Affairs Committee Members Visit Land Army Command
A National Assembly delegation headed by Security Services Control Committee Chairman Igor Becic visited the Land Army Command in Nis to show support for President Aleksandar Vucic's efforts to improve the security sector and overall safety in the country by strengthening the national defence capacities and the financial position of the members of the security and defence forces. The state's resolve to combat organized crime is clearly evident in President Vucic and the Serbian Government's initiative to strengthen penal policy and amend the criminal code.
---
Touring the Land Army Command the members of the National Assembly committees visited the Land Army and Nis Garrison Museum with its Memory Room and religious service area.
The Memory Room contains the names of the 16,186 soldiers, policemen and citizens of Nis killed in the clashes dating from the Balkan Wars to the armed conflicts in the former Yugoslavia, as well as the names of the soldiers who had died in Kosovo-Metohija in 1998 and in the 1999 NATO bombing, the names of the 79 children killed in the NATO aggression, including the Albanian children perished in the bus in the village of Luzane on the road Podujevo – Pristina, and the names of the soldiers, policemen and civilians killed in the Ground Safety Zone.
The heroes of Kosare and Pastrik occupy a special place in the museum - their photographs and names, 135 in all, aged 20 to 30, are on the Memory Room ceiling, symbolizing the heavens and angels.
The members of the National Assembly committees congratulated Lieutenant General Simovic and the members of the Land Army Command on this unique memorial of Serbian statehood and tradition.
Security Services Control Committee Chairman Igor Becic said that the plaque the Security Services Control Committee is presenting to the Land Army Command is the result of their contributions to the overall improvement of the defence and security sector as well as the impressive presentation of the history of the Serbian people, keeping the memory of the sacrifices the Serbian people laid down for their freedom and the fact that the officers of the Land Army Command and Lieutenant General Simovic had worked for two years on collecting the documents, photographs and material and the exhibition itself, mostly outside of working hours and without compensation.


---
---
wednesday, 8 july
No announcements for selected date