National Assembly of the Republic of Serbia / Activities / Activity details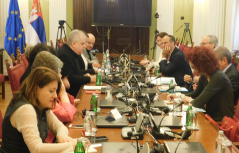 6 March 2019 The members of the European Integration Committee and Foreign Affairs Committee in meeting with the European Commission Director-General for Neighbourhood and Enlargement Negotiations
Wednesday, 6 March 2019
European Integration and Foreign Affairs Committee Members Meet with Director-General for Neighbourhood and Enlargement Negotiations
The members of the European Integration Committee and Foreign Affairs Committee met with European Commission Director-General for Neighbourhood and Enlargement Negotiations (NEAR) Christian Danielsson to discuss Serbia's European integration and the National Assembly's role in the process.
---
European Integration Committee Chairman Nenad Canak said that EU accession is Serbia's strategic goal and the majority of National Assembly members support European integration. Canak expects that Serbia's progress would be noted in the European Commission's new Report, expected after the European Parliament election in May.
Speaking of the public support for European integration, Canak said that according to the latest poll, 55% of the people are in favour of the process and 70% support the ongoing reform. He concluded that by speeding up the European integration process the EU would send a clear message to the people of Serbia that it truly wants the country join.
"16 negotiation chapters have been opened so far, plus Serbia has submitted negotiation positions for five more and is working on three new negotiation positions", said the Chairman of the European Integration Committee. He also spoke about the role the National Assembly and the Committee pay in the EU accession process.
NEAR Director-General Christian Danielsson said that Serbia's EU accession is both the country's and the EU's goal. "The integration of the Western Balkans has not been a priority for a long time, but since 2017 the European Union has been focusing more on the integration of the region by adopting the Western Balkans Enlargement Strategy", he said, adding that there is still considerable reform work to be done to meet all the requirements for the region's full EU membership.
The judiciary and the rule of law, eliminating corruption and organized crime and the freedom of expressions are the key areas that require reform, said Danielsson, emphasizing the important role the National Assembly plays in the process.
The meeting was also attended by European Integration Committee Deputy Chairperson Elvira Kovacs, and Committee members Gordana Comic and Vera Jovanovic, Foreign Affairs Committee members Dragan Sormaz and Dusica Stojkovic, and the Head of the EU Delegation to Serbia Sem Fabrizi. The officials discussed the role of the National Assembly committees in Serbia's European integration process, the state-of-play in the Parliament, the economic reform and the macroeconomic stability it had secured, the coming adoption of a media strategy and the importance of regional cooperation and reconciliation.
They also spoke about the challenges the EU is faced with viz. Brexit, migrant crisis and ecological change.


---
---