National Assembly of the Republic of Serbia / Activities / Activity details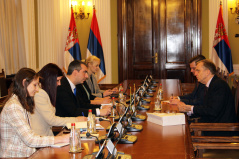 30 January 2023 The National Assembly Speaker in meeting with the Ambassador of the Kingdom of the Netherlands
Monday, 30 January 2023
Dr Orlic Meets with Dutch Ambassador to Serbia
The Speaker of the National Assembly of the Republic of Serbia Dr Vladimir Orlic met today with the Ambassador of the Kingdom of the Netherlands Joost Reintjes to discuss bilateral relations and interparliamentary cooperation.
---
Dr Orlic opined that the Netherlands are an important economic partner and one of the leading foreign investors in the Republic of Serbia. In that regard, he welcomed all past and future investments from the Netherlands, stressing that Serbia is the best country for investments in this part of Europe. Ambassador Reintjes confirmed the growing interest of potential Dutch entrepreneurs to invest in Serbia in view of the favourable business environment and exceptional conditions that our country provides.
In the course of the meeting, the officials noted the potential for cooperation in a variety of areas of common interest, primarily tourism and the IT sector. They also emphasised the willingness to connect the two parliaments through an exchange of visits at all levels, as well as the activities of the National Assembly's Parliamentary Friendship Group with the Kingdom of the Netherlands and working bodies. Dr Orlic announced that in the coming days, the National Assembly of the Republic of Serbia is expected to discuss legal acts related to the judiciary, which would round up the reform in this area begun with last year's Constitutional amendment, which Ambassador Reintjes was pleased to hear. "You have done a great and successful job, and I congratulate you on that," said the Ambassador.
Speaking about the situation in the southern Serbian province, the National Assembly Speaker stressed that the safety of the Serbian people in Kosovo-Metohija, respect for the signed agreements and the immediate formation of the Community of Serb Municipalities remain key issues for Serbia for which it expects everyone's full support. "The fundamental human rights of Serbs in Kosovo-Metohija are violated, they are beaten, arrested without any reason or evidence, their lives are destroyed because of a "verbal crime", and the most extreme example of violence is the wounding of Serbian children on Christmas Eve. Day by day, Albin Kurti generates crises but in spite of these impossible conditions, we continue to pursue a serious and responsible policy - a policy led in our country by President Aleksandar Vucic, and pursued by the National Assembly of the Republic of Serbia and the Government of Serbia," said Dr Orlic.
Ambassador Reintjes expressed his regret for the injury of the Serbian boys on Christmas Eve, as well as the hope that the dialogue between Belgrade and Pristina would result in the implementation of the agreements reached so far, including the formation of the Community of Serb Municipalities.
---
Photo gallery
---
---
sunday, 2 april
No announcements for selected date